Yoga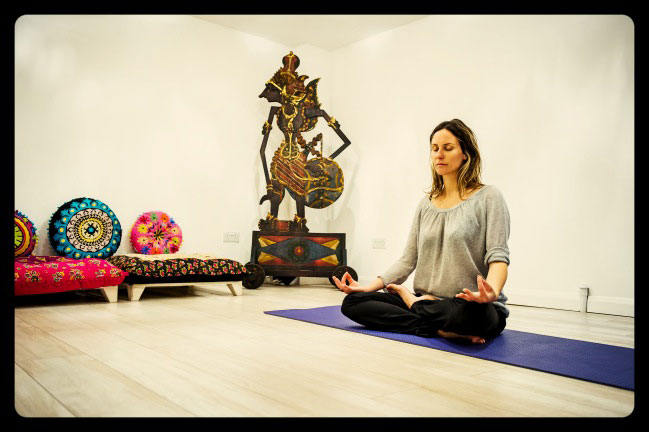 CLASSES RUN DAILY FROM 1PM
• One to one classes available for all levels.
• Group classes every Monday, Tuesday, Wednesday and Friday
(please book)
Call 020 7794 6296 and speak to Alketa to book your class
Alketa heads the Yoga Studio at the Curled Leaf. She is passionate about yoga. Her journey started in 2000 when she fell in love with philosophy, the beauty of movement, the power of breath, and the stillness of mind. She studied at the British School of Yoga in London. In 2009 she became a qualified yoga teacher and has been teaching ever since.
"Since 2009 I have been teaching and still to this day, it amazes me, as there is still so much to learn. It is not just a practice, or a belief, Yoga is a way of life. I need to quote Rumi as that is what I feel and believe every time I start and finish my yoga class. "I have been a seeker and I still am, but I stopped asking the books and the stars. I started listening to the teaching of my Soul."
Helping Alketa to run the Curled Leaf Yoga studio are Paola Brunetti and Arjeta Grapci.
Paola classes cover Yoga postures, breathing, relaxation, chanting. These traditional techniques combined with the power of engaging the mind, provides training for the student to bring a state of peace and calmness into one's practice and daily life. Paola is a firm believer that a healthy mind in a healthy body makes for a happier life. She is teaching classes on Mondays 6.30 -7.30, Wednesday 1.00 – 2.00 and 2.00 – 3.00, Friday 1.00 – 2.00 and 2.00 – 3.00.
Arjeta finished her teacher training with Jason Crandel, a man who the contributing editor of Yoga Journal named as one of the most influential teachers shaping modern yoga. She is teaching classes on Monday lunch time from 13:00 – 14:00 and 14:00 – 15:00.
"I feel blessed to have found such a great yoga teacher on my doorstep." Dean